ABOUT POGGIO DELLE GRAZIE
On a gently low sloping hill in the south of Lake Garda lies the vineyard. On clear days from the highest point in vineyard you can admire the reflection of the sun on the surface of the lake. We are in an area that has always suited to the cultivation of red grapes and especially white grapes.
The winery was founded in 2014 on the joint dream of two brothers, Stefano and Massimo who were already producing grapes, but giving them to other manufacturers. The love for the land, the desire to improve their product, the willingness to invest in something innovative prompted them, after years of research, personnel training, and the meeting with the young winemaker Damiano, to take the plunge. The harmony of thought with Damiano, the common desire to experiment and the will to diversify the market supply has led them in a few months to realize their dream.
Poggio Delle Grazie is modern winery producing quality wines in an Organic method, using the most natural products available to reduce the levels of chemicals used in the vinification process.
Visit their website
Shop their wines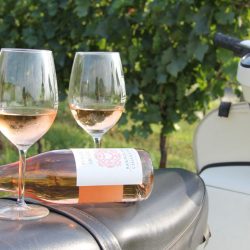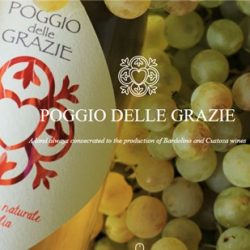 Rosè colour with violet reflections. Your nose will detect the...

Bardolino Chiaretto DOC

£9.50 incl VAT

Rosè colour with violet reflections. Your nose will detect the scent of small red fruits and eucalyptus. The taste has an optimal balance between softness and mineral flavour. A reminder of black currant and citrus.

Excellent as an aperitif, goes with first courses like risotto or pasta. Serve with main courses like white meats or fish. Optimal also with pizza.
Serve at temperatures between 10-12°C

18 in stock

A unique, Natural wine, that undergoes a refermentation in the...

Frizzante Blush Natural Wine

£10.95 incl VAT

A unique, Natural wine, that undergoes a refermentation in the bottle. Blush colour with orangish reflections. Fine and persistent effervescence. Your nose will get the hint of mandarins and peaches. The taste is savoury and enveloping, sweet sensations accompanied with a hint of minerals.

 Blush effervescent wine. Excellent as an aperitif or with pizza. Also goes well with light plates of white meats or fish.
Serve at temperatures between 8-10°C

22 in stock

A unique, Natural wine, that undergoes a refermentation in the...

Frizzante Natural White Wine

£10.95 incl VAT

A unique, Natural wine, that undergoes a refermentation in the bottle.  A straw yellow colour. Fine and persistent effervescence. Your nose will get the hint of white flowers and other very elegant aromas. The taste, savoury with minerals. The effervescence will enhance the scents of pineapple and honey.

 White effervescent wine. Optimal as an aperitif or with pizza. Goes well with light dishes or fried foods.
Ideal with dry cakes and traditional sweets.
Serve at temperatures between 8-10°C

23 in stock